See Ruhama GRANT in the Family Tree


Find Another Individual

Ruhama GRANT
aka Ruie

Born: 25 APR 1811 in Cortland, NY
Died: 1 FEB 1882 in Clyde, Sandusky, OH
Age: 70 years
Buried: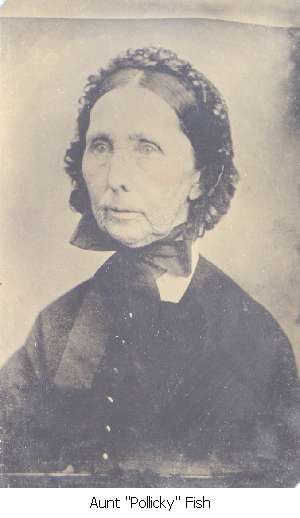 Born

Married

Died
Children with Seneca D FISH

Thomas Matthew FISH
Born: 21 JUN 1840
Clyde, Sandusky, OH
Died: 7 DEC 1892
John Platt FISH
Born: 10 AUG 1830
NY
Died: 15 APR 1905
Toledo, Lucas, OH
Ruhama FISH
Born:
Died:
Lewis Cass FISH
Born: 1846
Died: DECEASED
Lillian FISH
Born:
Died:
Joseph H FISH
Born: 8 OCT 1831
Independence, Allegany, NY
Died: 15 NOV 1889
Clyde, Sandusky, OH
William Hawley FISH
Born: 7 FEB 1838
Bath, Steuben, NY
Died: 11 MAR 1909
Kansas City, Jackson, MI

Notes: This information has come to me, but I have the wife of Seneca FISH listed as Polly, and have pictures of them. According to info received from Lance Sandvik, her descendant, she and SD had 7 sons and 2 daughters.
According to info rec`d from Victoria Boydd 10/5/108, Ruhama was born Nov 10, 1816.

Sources